OEM 2000 Toyota Solara Parts and Accessories
Select The Trim & Engine Of Your Vehicle Below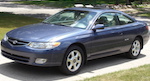 Since its inception, the Toyota Solara has been hugely popular among Toyota fans who want a bit of an edgier look than the base model Camry could offer. Here at Parts.OlatheToyota.com, we offer a wide selection of maintenance and replacement parts from 1994 to the latest model. Common Solara parts we carry include:
Brakes - We offer a full line of the best quality brake replacement parts available for. All our products are factory OEM standard for the Solara.
HVAC parts - When dropping the top on a hot day just isn't enough, you'll find a full array of HVAC equipment here to keep your A/C system in top shape. From belts and pulleys to cooling compressors, we've got you covered.
Body Hardware - Missing or damaged trim? Body damage from a collision? No worries. We have a full complement of OEM replacement interior and exterior panels, so you know you're getting the right part, the first time, hassle free.
When you call us, you'll talk to a knowledgeable representative who has at least 10 years experience with Toyota. Also, at Olathe Toyota Parts Center, we never "hook" customers with low prices before hitting them with huge shipping fees to compensate. We pride ourselves in having honestly low prices from order to shipment, guaranteed.