No.
Part # / Description
/ Price
Price
No.
Part # / Description
/ Price
Price
Water Inlet
Thermostat Housing
C-HR. Thermostat & hoses. Japan part. 1.8L gas, reservoir & hoses. Corolla. Japan built. XD. Matrix. 1.8L, auto trans. IM.
Engine Coolant Thermostat
Thermostat
The coolant thermostat is essential to your Toyota's cooling system. A thermostat monitors the temperature of your engine's coolant. When your engine first starts, the thermostat is closed and prevents coolant from circulating through the radiator. This he ...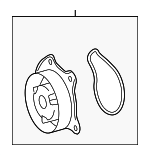 Water Pump
Corolla. 1.8L. XD. Matrix.
Discontinued
Discontinued
Water Pump Gasket
Gasket
Without eco. 1.8L. Corolla. XD. Without valvematic eng. Matrix.
Fan Blade
XD. To 07/2014. Yaris. Japan built.