No.
Part # / Description
/ Price
Price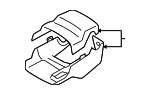 Column Assembly Upper Bracket
Bracket
Camry. Without push button start. Japan built, without limited. Highlander. Without smart entry. XD. Manual trans. JAPAN BUILT. without Smart Key auto trans.
Ignition Switch
Tundra. Sequoia. Tacoma. Japan built. Camry. With power tilt. Us built. Yaris. XD. Highlander Hybrid.
Interlock Solnd
Without power tilt. Without smart key. Auto trans. Japan built. Us built. Key interlock.
Headlamp Switch
Without fog lamps. XD. Yaris. To 09/2011. Dimmer,Headlight,Turn Signal.
Wiper Switch
Yaris. XB. XD. IQ. To 9/11. With rear wiper. All. Without intermittent wiper.
Sensor
Angle Sensor
RAV4. Japan built, stability control. Steering.