Related Parts
Part # / Description
/ Price
Price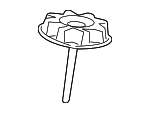 Floor Cover
Spare Tire Compartment Cover, Rear
Canada built.
Floor Cover
Spare Tire Compartment Cover, Rear
Japan built.
Trim Board
Trunk Trim Panel, Rear
Japan built, without hybrid. Canada built.
Side Trim Panel Hook
Tie Down Hook, Rear
Side trim & floor without prime with spare repair. Lower. Striker. Luggage holder. With plug-in. Hatchback, with spare tire. Hatchback, with tire repair kit.
Courtesy Lamp
Cargo Area Light, Rear
Cargo lamp. With plug-in. To 05/2015.