Tire Pressure Monitor Components for 2013 Toyota Sienna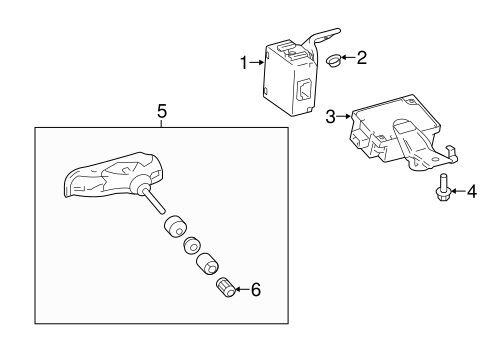 No.
Part # / Description
/ Price
Price
Module Nut
Park & reverse assist. Vehicle approaching system. 2007-11. Sedan. 2012-14.
Receiver Bolt
TPMS Antenna Bolt
Keyless entry components. Keyless entry, 2013-19. Keyless entry, 2018-20. Conventional. 2009-12. Keyless entry, 2020.
TPMS Sensor
Tundra. Sienna. Sequoia. Type a. With 20 degree angle. TPMS 20-Degree.
Related Parts
Part # / Description
/ Price
Price
Repair Kit
Incl.Grommet,Nut and Washer. This kit is only used when replacing the TPMS.. Fittings. 2019-20, canada built, without smart entry. Exc.Japan Built. Exc.Keyless Ignition.