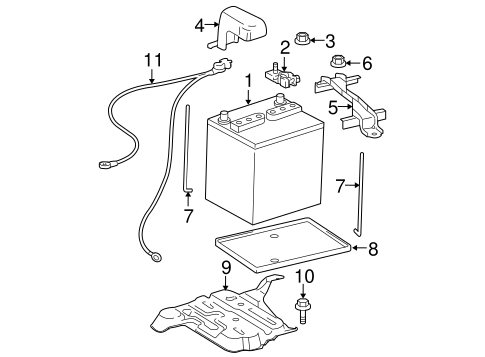 No.
Part # / Description
/ Price
Price
Not For Sale
Positive Term
Positive term. With hybrid, canada built. Standard. Conventional, 2021.
Battery Tray
Fits Camry , Sequoia, T100, Tacoma , Tundra\ \ 4.0L. Tray. 24F group. Gas engine. 2.7L, manual trans. With cold area pkg. With 5.7l, without 165 wheelbase, without cold spec.
Bolt W Washer
Carrier Mount Bolt
Second row without third row seat, outer, #1. Without double cab. 4 wheel drive, 2001-04. #2. Front. Without dual exhaust. 4 door, at retractor, upper. Sedan. Japan built. 16mm. Hatchback.
Not For Sale
2 This part contains hazardous materials. Extra shipping costs apply.