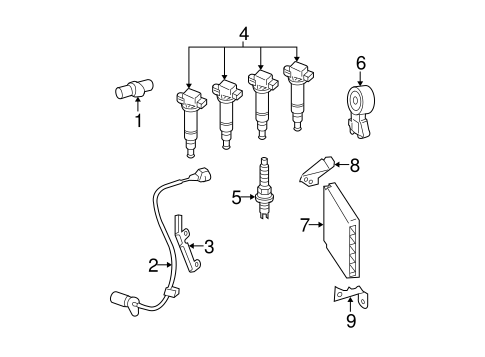 No.
Part # / Description
/ Price
Price
Engine Crankshaft Position Sensor
Crankshaft Sensor
TC. Matrix. 2.4l. RAV4. Highlander. 2.4l. Camry Hybrid. Corolla. 2.4l. Engine # 0xxxxxx-6xxxxxx. Engine # bxxxxxx. Engine # hxxxxxx-kxxxxxx.
Ignition Knock (Detonation) Sensor
Knock Sensor
Knock Sensor - Repair or Replace A failed Knock Sensor will often have no noticeable symptoms beyond a check Engine light or Engine ping or knock, but it does cause your Toyota to operate inefficiently and produce higher emissions. Our technicians have access to manufacturer-approved repair processes and Toyota genuine parts.
ECM
Manual trans. TC. Auto trans.
ECM
Auto trans. TC. Manual trans.
Direct Ignition Coil
Ignition Coil
This would be for ONE individual Ignition Coil. Camry Hybrid. Highlander. Corolla. Matrix. RAV4. TC. All. 2.4l. Without awd.
Japan built. Eng. #0xxxxxx-6xxxxxx.